Call of Duty: Advanced Warfare si lancia in video
L'atteso sparatutto sci-fi di Activision si prepara a uscire su PC, Xbox 360, PlayStation 3, Xbox One e PlayStation 4
Mancano ancora poco più di due settimane alla commercializzazione di Call of Duty: Advanced Warfare ma i vertici di Activision hanno già pronto il trailer di lancio del loro prossimo, attesissimo titolo che nella sua versione "maggiore" (quella per PC e console current-gen) sarà firmata dagli studios americani di Sledgehammer, diversamente da quella rivolta all'utenza di Xbox 360 e PlayStation 3 realizzata dagli High Moon.
Il filmato promozionale confezionato da Activision raccoglie le dichiarazioni "ad effetto" dei giornalisti di settore e mostra alcune scene (sia di gioco che in cinematica) tratte dalla campagna principale che ci vedrà contrapposti alla corporazione militare privata Atlas guidata da Jonathan Irons, il cattivone che ci attende alla fine dell'avventura in singolo e che assumerà le sembianze (e le animazioni) di Kevin Spacey.
Guarda le ultime immagini di Call of Duty: Advanced Warfare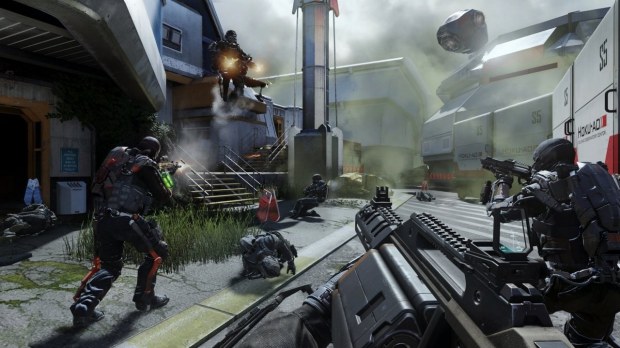 Leggi anche - Call of Duty: Advanced Warfare - l'upgrade per PS4 e XB1 è gratis per chi acquista le edizioni digitali su PS3 e X360
Prima di lasciarvi al video di cui sopra, ricordiamo quindi a chi ci segue che Call of Duty: Advanced Warfare sarà disponibile a partire dal 4 novembre su PC, Xbox 360, PlayStation 3, Xbox One e PlayStation 4.
Gli appassionati di sparatutto che decideranno di optare per il preordine (a prescindere dall'edizione acquistata e dal rivenditore a cui si rivolgeranno) potranno effettuare in anticipo il download del titolo e accedere ai server di gioco del comparto multiplayer un giorno prima della data di commercializzazione ufficiale e godere, in questo lasso di tempo, di un boost per i punti esperienza acquisiti nelle arene online.
Approfondisci - Call of Duty: Advanced Warfare, svelata la lista di Trofei e Achievement