Call of Duty: Advanced Warfare - nuovo video sulla companion app
Activision svela l'applicazione che accompagnerà il lancio del suo prossimo, atteso sparatutto sci-fi
I curatori del portale YouTube ufficiale della serie di Call of Duty hanno confezionato un nuovo filmato dimostrativo dedicato all'applicazione per tablet e smartphone che sarà disponibile gratuitamente su iOS e Android in concomitanza con il lancio europeo e nordamericano di Advanced Warfare.
Oltre ai proverbiali moduli utilizzabili per consultare le classifiche e le statistiche online del nostro alter-ego e della sua squadra, la companion app dell'atteso sparatutto sci-fi degli studi Sledgehammer e High Moon sarà contraddistinta dalla presenza di un agile editor di emblemi e della scheda interattiva per la personalizzazione dei soldati virtuali attraverso il Pick 13, il sistema che ritroveremo anche nel titolo e che ci permetterà di "costruire" l'equipaggiamento selezionando in maniera completamente autonoma - e senza limitazioni sui punti esperienza - le armi da impiegare in battaglia e i relativi innesti, così come le abilità da sbloccare con le uccisioni multiple, le granate, i potenziamenti dell'esoscheletro e diversi altri gadget futuristici.
Guarda le ultime immagini di Call of Duty: Advanced Warfare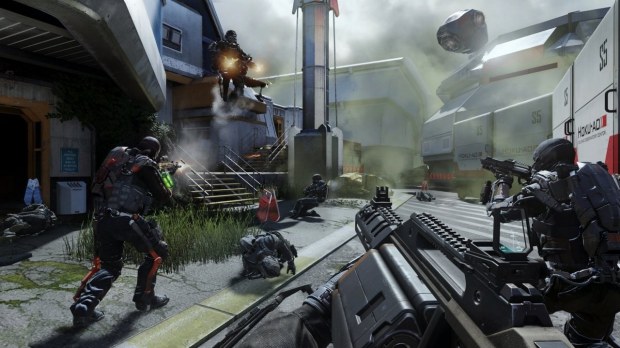 Prima di lasciarvi al video di cui sopra, ricordiamo quindi a chi ci segue che Call of Duty: Advanced Warfare sarà disponibile a partire dal sempre più prossimo 4 novembre su PC, Xbox 360, PlayStation 3, Xbox One e PlayStation 4.
Chi deciderà di effettuare per il preordine (a prescindere dall'edizione acquistata e dal rivenditore a cui si rivolgeranno) potrà inoltre procedere al download anticipato del titolo e accedere ai server di gioco del comparto multiplayer un giorno prima della data di commercializzazione ufficiale e godere, in questo lasso di tempo, di un boost per i punti esperienza acquisiti nelle arene online.