Xbox Games Store: le novità di giovedì 5 febbraio
Xbox Games Store: tutte le novità di questa settimana (dal 3 al 10 febbraio)
Il 40% di sconto sul prezzo delle versione Games on Demand per Xbox 360 di Far Cry 4 è la promozione più importante di questa settimana
Come ogni giovedì mattina, eccoci ritornati alla nostra consueta rubrica settimanale con gli aggiornamenti e le ultime promozioni sui contenuti aggiuntivi, sulle versioni dimostrative, sui titoli indipendenti e sugli sconti a tempo previsti nei prossimi giorni sull'Xbox Games Store di Xbox 360 e Xbox One. Partiamo allora con la scheda di approfondimento sulle offerte dei Deals with Gold che avranno luogo da qui sino al prossimo 10 febbraio:

Promozioni Gold (fino al 10 febbraio e solo per gli utenti Xbox Live Gold)

Xbox One

Far Cry 4 - sconto del 33%


Far Cry 4 Gold Edition - sconto del 33%

Xbox 360

Far Cry 4 - sconto del 40% - 40,19€


The Walking Dead Survival Instinct - sconto dell'80% - 7,99€


Assassin's Creed Rogue - sconto del 33% - 40,19€


Payday 2 - sconto del 75% - 9,99€


Leggi anche - Far Cry 4: la recensione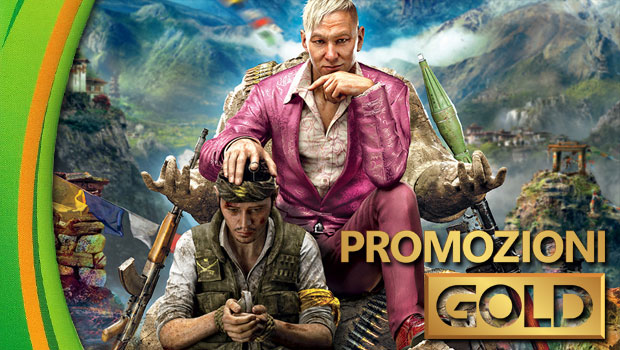 Approfondisci - Assassin's Creed Rogue: trailer "Il Cacciatore di Assassini" e nuove immagini di gioco
A seguire, potrete trovare tutte le restanti novità e le promozioni che ci attendono sugli store digitali di Xbox 360 e Xbox One da qui al 3 febbraio.

Xbox Live Arcade

Xbox One - RISK
Xbox One - Life is Strange - Episode 1
Xbox One - Unmechanical: Extended

Xbox 360 - Life is Strange - Episode 1

Games With Gold

Xbox One - #IDARB (fino al 28 febbraio)

Xbox 360 - Brothers: A Tale of Two Sons (dall'1 al 15 febbraio)

Add-on di giochi

Game of Thrones - A Telltale Games Series - Episode 2: The Lost Lords
Rocksmith 2014 Edition - 36 nuovi elementi
WWE 2K15 - 5 nuovi elementi
L'Ombra di Mordor - 4 nuovi elementi

Giochi su richiesta

Condemned 2: Criminal Origins
Spongebob Heropants

Giochi indipendenti

RetroBoy V1
Air War
FaceBreaker
Karsus

Demo dei giochi

Battlefield Hardline: Open Beta
Forza Horizon 2

Giochi previsti

Dynasty Warriors 8: Legends
Fable Legends
Evolve
The Witcher 3: Wild Hunt

Temi e immagini giocatore

Arsenal FC Themes and Pics
Manchester City FC Themes and Pics
Attack on Titan
Hardwood Spades
Non dimenticate di scaricare la Blogo App, per essere sempre aggiornati sui nostri contenuti. E' disponibile su App Store e su Google Play ed è gratuita.