Lords of the Fallen: il DLC Ancient Labyrinth datato, filmato e fotografato
L'appassionante action/GDR "alla Dark Souls" di CI Games si prepara ad accogliere una nuova espansione con mostri inediti, tanti tesori da scoprire e diverse aree aggiuntive da esplorare
I ragazzi di CI Games e il team di Deck13 Interactive capitanato da Tomasz Gop (l'ex produttore di The Witcher 2: Assassins of Kings) riguadagnano il palcoscenico mediatico per fissare la data di lancio della prossima espansione di Lords of the Fallen, Ancient Labyrinth, e accompagnare tale annuncio con un interessante video di gioco e degli screenshot esplicativi.
Gli eventi che andremo a vivere con questo promettente contenuto aggiuntivo correranno parallelamente alla storia principale e ci permetteranno di fare la spola tra la nostra dimensione e quella dei demoni prima che il varco si apra ulteriormente e lasci passare tutti i mostri, le creature d'ombra e i diavoli ancestrali che scalpitano per entrare nel regno dei vivi.
Lords of the Fallen: Ancient Labyrinth - galleria immagini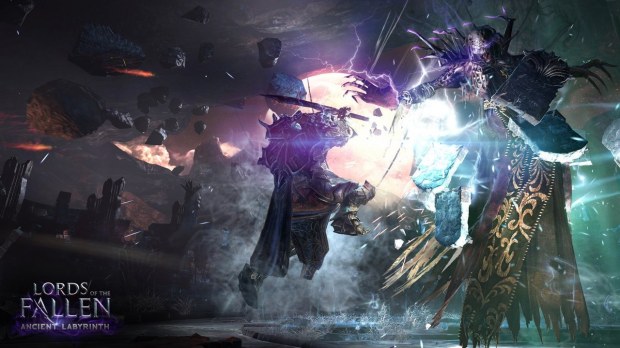 Ancient Labyrinth si premurerà quindi di aggiungere una nuova regione esplorabile (The Library) a quelle già presenti nel titolo liscio, all'interno della quale saranno presenti tesori estremamente rari, aree segrete difese da esseri che richiederanno un alto livello di esperienza per essere abbattuti, diversi puzzle da risolvere e un ricco ventaglio di armi, di abilità, di scudi e di armature inedite per ogni tipologia di classe personaggio. Complessivamente, l'offerta confezionata dai ragazzi di Gop dovrebbe garantirci un'iniezione di longevità di 15-20 ore di gioco, e questo senza considerare il tempo da spendere nell'esplorazione libera e nelle sfide da compiere per raggiungere il livello di esperienza necessario per avere qualche speranza di sopravvivenza contro i boss maggiori e i nemici più arcigni.
A questo punto non ci rimane che chiudere il pezzo e informare tutti gli appassionati di action-GDR che l'espansione Ancient Labyrinth di Lords of the Fallen sarà disponibile a partire dal 3 marzo su PC e Xbox One e dal giorno successivo su PlayStation 4.
Approfondisci - Lords of the Fallen sbarcherà su iOS e Android nel 2015