Borderlands: The Handsome Collection - Gearbox illustra il processo di trasferimento dei salvataggi
Ecco cosa bisognerà fare per trasferire i "vecchi" salvataggi per X360 e PS3 di Borderlands 2 e Borderlands: The Pre-Sequel sulla nuova Handsome Collection per Xbox One e PS4
A dieci giorni dall'uscita di Borderlands: The Handsome Collection, i vertici di Gearbox Software fanno partire il conto alla rovescia per il rilancio in salsa next-gen di Borderlands 2 e del Pre-Sequel (con relative espansioni) descrivendo con dovizia di particolari tutti i passaggi da compiere per godere della funzionalità di cross-save della collezione.
Seguendo la procedura illustrataci sul blog ufficiale di Gearbox, scopriamo così che il processo di trasferimento dei salvataggi può avvenire solo nella medesima "famiglia di console" (da Xbox 360 a Xbox One, e da PlayStation 3/PS Vita a PlayStation 4) e dopo aver provveduto ad aggiornare Borderlands 2 e il Pre-Sequel all'ultima versione: solo così, infatti, si può accedere alla funzione "Cloud Save" per effettuare il download (e quindi l'upload) dei file richiesti sui server proprietari di 2K.
Borderlands: The Handsome Collection - galleria immagini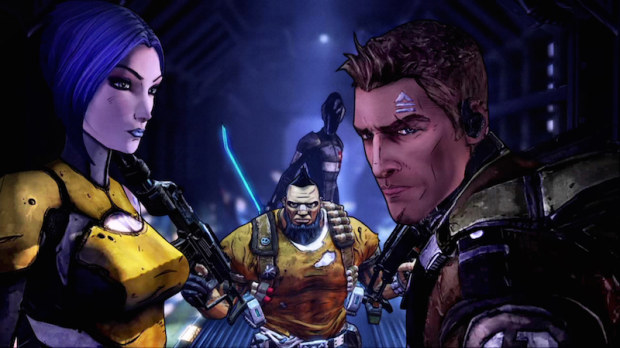 La funzione di cross-save consentirà agli utenti di lungo corso di proseguire l'avventura senza perdere il livello dei propri personaggi, l'inventario delle armi, gli elementi di personalizzazione, gli eventuali Punti Badass non ancora spesi, i dati registrati nella banca di Sanctuary e le casse di Eridium.
Per chi dimostrerà di essere un fan della serie e deciderà di sincronizzare i propri dati attraverso il trasferimento dei salvataggi anche nel caso in cui volesse ricominciare da zero l'avventura, naturalmente, sono previste anche delle ricompense rappresentate da un cospicuo gruzzolo di chiavi dorate (75 per ciascun gioco), da dei punti Badass (1 per gioco), da un vasto assortimento di personalizzazioni per l'eroe e, nel caso del Pre-Sequel, da alcune armi uniche.
Il lancio di Borderlands: The Handsome Collection è previsto per il 27 marzo su PlayStation 4 e Xbox One. Prima di chiudere il pezzo, vi lasciamo quindi alle recensioni di Borderlands 2 e Borderlands: The Pre-Sequel per ripercorrere la strada intrapresa dai ragazzi di Gearbox Software con gli ultimi due capitoli di questa apprezzata saga sparatutto.
Borderlands: The Pre-Sequel - la recensione