The Witcher 3: Wild Hunt - l'interfaccia, il menù di pausa e il sistema di crafting in nuove immagini
I ragazzi di CD Projekt RED continuano a inondarci di immagini di gioco di The Witcher 3
Gli sviluppatori polacchi di CD Projekt RED proseguono la loro incessante campagna mediatica legata a The Witcher 3: Wild Hunt facendo capolino sulle pagine di un fansite nipponico per offrirci degli screenshot inediti dedicati all'interfaccia, ai menù di pausa, al sistema di crafting e alla libertà concessa all'utente nella scelta delle attività open-world da intraprendere e dei luoghi da esplorare spezzando l'azione di gioco ddella campagna principale
Del tutto innocue e prive di spoiler (a meno che non conosciate il giapponese, s'intende), le immagini proposteci dai ragazzi di CD Projekt testimoniano gli sforzi profusi dal team polacco per riorganizzare i menù di pausa e migliorare la fruizione delle diverse componenti modulari che andranno a comporre l'interfaccia, dalle opzioni per la creazione di armi e pozioni alle ramificazioni dell'albero di abilità.
Guarda le ultime immagini di gioco di The Witcher 3: Wild Hunt dedicate ai menù di pausa e all'interfaccia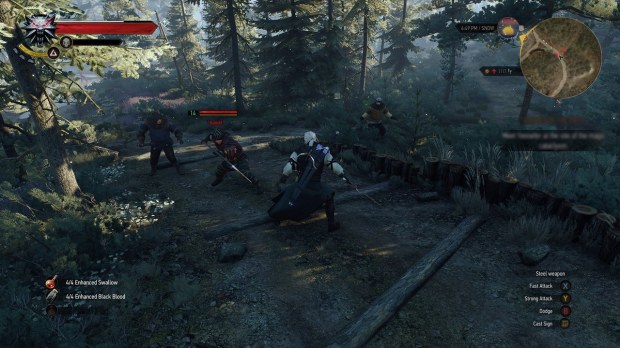 Le modifiche compiute dai CD Projekt in sede di riscrittura dell'interfaccia avranno riflessi diretti e immediati sull'evoluzione del personaggio: diversamente dal passato, infatti, col passare delle ore di gioco l'albero di abilità di Geralt di Rivia maturerà rami sempre diversi in base alle decisioni che prenderemo acquisendo livelli di esperienza sempre più avanzati, ad esempio favorendo o precludendo l'accesso a funzioni avanzate di combattimento all'arma bianca, di alchimia o di funzionalità "magiche" legate ai Segni.
La commercializzazione di The Witcher 3: Wild Hunt, come oramai sapranno anche i sassi, è prevista per il prossimo 19 maggio su PC, PlayStation 4 e Xbox One.
Approfondisci - The Witcher 3: Wild Hunt - Geralt fa il romanticone con Triss e Yennefer in una nuova serie di screenshot