The Dark Meadow: prime immagini di gioco per la nuova avventura horror in esclusiva iPhone/iPad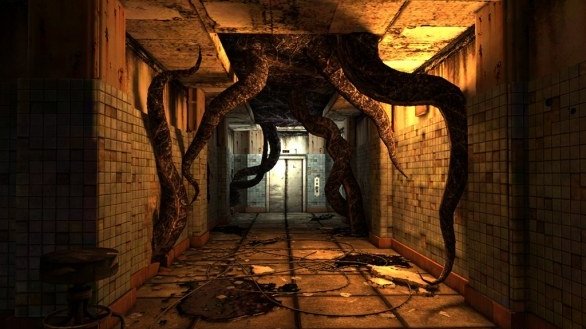 Torniamo con piacere ad occuparci di The Dark Meadow per segnalarvi l'apertura del sito ufficiale e per proporvi la prima serie di immagini di gioco e di render dedicati a questo intrigante esperimento portato avanti dai ragazzi della casa di sviluppo statunitense Phosphor Games per concedersi un attimo di pausa dai lavori su Awakened.
Il titolo, lo ricordiamo, è un horror in prima persona avente per protagonista un tizio che, per qualche oscura ragione, perderà i sensi e si ritroverà all'interno di un vecchio ospedale abitato da esseri soprannaturali accoglienti quanto un Grizzly dentro un ipermercato. Più che per la sua blanda narrazione principale, l'opera riesce però a ritagliarsi un ampio spazio di visibilità mediatica sui siti di settore per la bontà del suo comparto grafico, realizzato sulla base della versione mobile dell'Unreal Engine 3.
La pubblicazione di The Dark Meadow dovrebbe avvenire in queste settimane su AppStore in esclusiva per i dispositivi iOS di ultima generazione (iPhone 3GS/4, iPod Touch 4G e iPad/iPad 2).
The Dark Meadow: galleria immagini