Transformers: Fall of Cybertron - Grimlock si scatena in immagini e video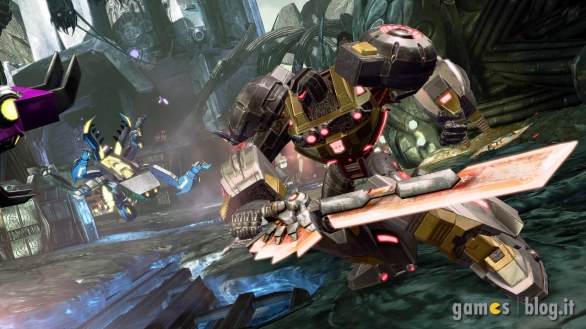 Gli studi High Moon soddisfano la curiosità degli appassionati e annunciano la presenza di Grimlock tra i personaggi interpretabili in Transformers: Fall of Cybertron con un filmato dimostrativo accompagnato da un poker di scatti di gioco.
Amato dai fan per la sua capacità di trasformarsi in un tirannosauro e per la straordinaria forza dei suoi attacchi, Grimlock è l'unico tra gli "eroi minori" della saga a tenere testa, in quanto a potenza bruta, ai leader storici degli Autobot (Optimus Prime) e dei Decepticon (Megatron), come dimostra la marmellata di ragni meccanici prodotta da quest'ultimo nel video che v'attende dopo il salto.
L'uscita di Transformers: Fall of Cybertron e dei suoi sauropodi di latta è prevista per il 31 agosto su PlayStation 3 e Xbox 360.
Transformers: Fall of Cybertron - galleria immagini