Transformers: Fall of Cybertron - nuove immagini di gioco sui Dinobots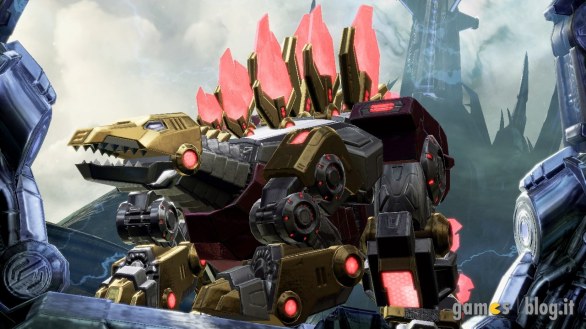 Grimlock chiama a rapporto gli altri Dinobots per organizzare una festa giurassica con lamiere fumanti e tante immagini di gioco inedite di Transformers: Fall of Cybertron.
Dotati di spaventosi artigli meccanici e di fauci in grado di dilaniare lastre di metallo come fossero panetti di burro, i Dinobots saranno tra gli attori principali della guerra tra gli Autobot e i Decepticon: la scelta degli sviluppatori di High Moon Studios di limitare l'uso delle armi da fuoco da lunga distanza per enfatizzare il ritmo degli scontri corpo a corpo, infatti, darà a Grimlock e alla sua squadra l'occasione perfetta per dimostrare quanto valgono.
Transformers: Fall of Cybertron arriverà il 31 agosto su PlayStation 3 e Xbox 360.
Transformers: Fall of Cybertron - Dinobots - galleria immagini