I 10 titoli che i ragazzini devono assolutamente evitare (secondo un ente americano)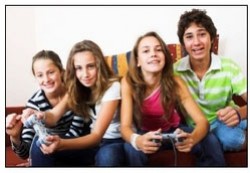 Il National Institute for Media and the Family è un'organizzazione che annualmente stila una breve guida per informare i genitori su cosa comprare e cosa non comprare ai propri figli. Per quest'anno sono stati selezionati 10 titoli assolutamente da evitare e 10 titoli raccomandati.
Ironico il fatto che fra i titoli che l'istututo consiglia di comprare ai bambini ci sia Need for Speed Pro Street, che come sapete è stato pubblicizzato da due gnoccolone in topless.
Titoli da non comprare assolutamente a bambini e teenager:

Titoli raccomandati per bambini e teenager:




Hannah Montana: Spotlight World Tour


Madden NFL 08




The Sims 2: Castaway


Super Mario Bros. 3



Viva Pinata