Turning Point: Fall of Liberty disponibile in demo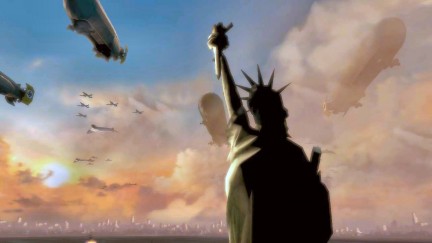 Sul marketplace di Xbox 360 è disponibile la versione dimostrativa di Turning Point: Fall of Liberty, FPS atteso anche per Playstation 3 e PC nel primo trimestre del 2008.
L'interessante titolo ci mette nei panni di un comune cittadino impegnato a sopravvivere in un futuro alternativo dove il secondo Conflitto Mondiale si è concluso in maniera diversa da come (per fortuna) è andata veramente.
A muovere il tutto l'onnipresente Unreal Engine 3.0, utilizzato in licenza dagli Studi Spark Unlimited e pubblicato da Codemaster.
Come già segnalato, la colonna sonora sarà affidata al celebre Michael Giacchino.
Il download pesa 1,24Gb.