Diablo III a quota 10 milioni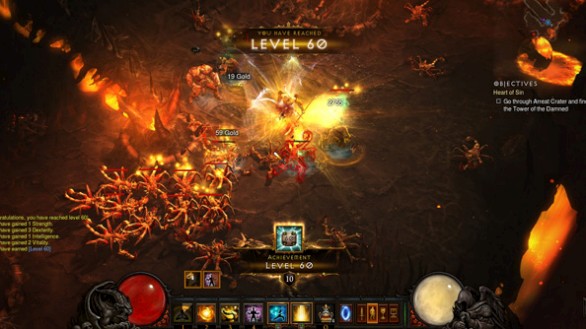 Diablo III ha raggiunto e superato la prestigiosa quota di 10 milioni di copie vendute: lo ha reso noto Activision Blizzard, in occasione dello stesso evento in cui ha affermato che StarCraft II: Heart of the Swarm arriverà a 2013 inoltrato. La cifra riguarda ovviamente il solo mercato PC, ed è aggiornata allo scorso 30 settembre: grazie a tali dati, Diablo III diventa il gioco di questa piattaforma di maggior successo sia in termini economici che di unità, in entrambi i territori di Nord America ed Europa.
In termini puramente economici, nel terzo quarto dell'anno fiscale in corso Activision Blizzard ha ricavato 841 milioni di dollari, andando così oltre sia alla previsione per lo stesso periodo di 740 milioni, che al Q3 dell'anno scorso, in cui la società si è fermata a 754 milioni. Bobby Kotick, il CEO, ha fatto sapere di aspettarsi ancora grandi cose grazie a Skylanders Giants ma soprattutto a Call of Duty: Black Ops 2, atteso come "uno dei lanci di maggior successo della storia di qualsiasi forma d'intrattenimento".
Via | Eurogamer.net