Nintendo Direct: domani alle 18:00 una nuova conferenza per presentare i titoli in uscita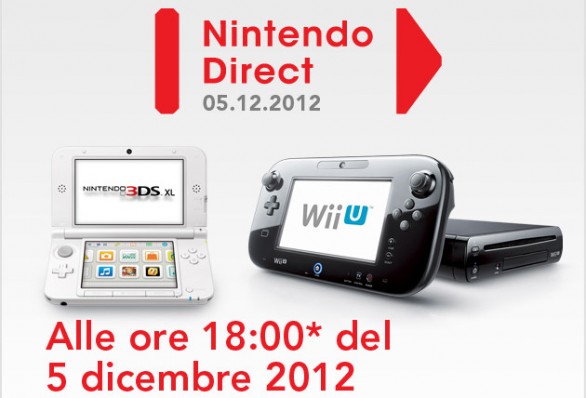 Nintendo of Europe ha annunciato una nuova edizione di Nintendo Direct, che andrà in diretta streaming domani, 5 dicembre, alle ore 18:00 italiane. Nella conferenza veranno presentati tutti i titoli per Wii U e Nintendo 3DS in arrivo dai prossimi giorni fino ai primi mesi del 2013.
L'anfitrione dell'evento sarà Satoru Shibata, Presidente di Nintendo of Europe. Troverete qui su Gamesblog.it un articolo dove seguire in diretta la presentazione, e in seguito anche ulteriori articoli di approfondimento. Quali sono i giochi Wii U e 3DS che attendete con più aspettative? Ricordiamo che fra quelli di prossima uscita troviamo titoli come Animal Crossing: New Leaf, Luigi's Mansion: Dark Moon, e anche uno che personalmente aspetto con ansia: Pikmin 3.
Per maggiori informazioni vi lasciamo i seguenti link:
Nintendo Direct su Ustream https://www.ustream.tv/NintendoIT
Sito Wii U https://wiiu.it
Sito Nintendo 3DS XL https://www.nintendo3ds.it
Visita guidata a Nintendo 3DS https://visitaguidata.nintendo.it
Nintendo Italia su Twitter https://twitter.com/nintendoitalia
Nintendo Italia su YouTube https://www.youtube.com/NintendoItalia