Black Ops 2 - un poster del DLC "Revolution" compare su Call of Duty Mobile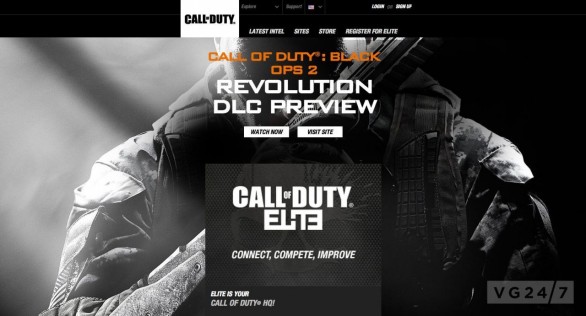 Nel sito Call of Duty Mobile è comparsa brevemente una nuova immagine pubblicitaria per Revolution, il primo contenuto aggiuntivo di Call of Duty: Black Ops 2. L'immagine è stata quasi immediatamente rimossa, ma potete comunque ammirarla qui in apertura.
Secondo quanto possiamo vedere, il DLC dovrebbe arrivare "presto", cosa che porterebbe a pensare che l'indiscrezione su un'uscita fissata per il prossimo 20 gennaio abbia una certa probabilità di confermarsi vera. Nel pacchetto di contenuti aggiuntivi dovrebbero essere presenti l'arma bonus Peacekeeper SMG e cinque nuove mappe di gioco: Mirage, Downhill, Hydro, Grind, e Die Rise. Quest'ultima, stando alla grafica del poster, dovrebbe riguardare la modalità zombie.
Ricordiamo che Activision ha reso noto che Call of Duty: Black Ops 2 ha generato vendite per oltre 1 miliardo di dollari nei soli primi quindici giorni di commercializzazione.
Nella nostra recensione di Call of Duty: Black Ops 2, Michele aveva finalmente trovato qualche timido elemento d'innovazione nella modalità per giocatore singolo: «Per il sagace e coraggioso esperimento narrativo compiuto dai ragazzi di Treyarch per dare alla trama e alle meccaniche di gioco un respiro più ampio e un carattere tanto forte quanto "malleabile", Black Ops II riesce a imprimere un vero slancio di innovazione alla fin troppo vituperata e autoreferenziale saga di Call of Duty».