Dungeon Siege movie - Pre-Trailer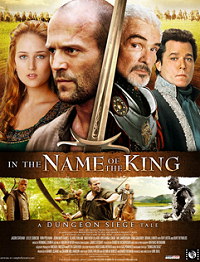 Il legame tra videogames e cinema, negli ultimi anni, sta diventando sempre più fitto e insistente. E' solo di qualche giorno fa, la notizia del teaser trailer del film ispirato alla serie Dead or Alive, che oggi è apparso su internet il primo beta-trailer di In the Name of the King: A Dungeon Siege Tale, film ispirato al primo capitolo della famosa saga di casa Microsoft: Dungeon Siege, appunto.

Il film, diretto da Uwe Boll (House of the Dead) e sceneggiato da Tony Ching (Hero, La Foresta dei Pugnali Volanti) potrà contare su un cast di tutto rispetto: Jason Statham(che interpreterà il contadino protagonista), Burt Reynolds, Ray Liotta, Ron Perlman (Hellboy), Claire Forlani(Vi Presento Joe Black, S.YN.A.P.S.E), John Rhys-Davies (alias Gimli), Kristanna Loken(alias T-X) e molti altri.


Qui il Pre-Trailer in wmp; l'uscita del film è prevista per l'inverno 2006.


Secondo una mia personale impressione, credo che il film sfrutterà solo la storia e l'ambientazione fantasy di Dungeon Siege, per proporci invece un bel block-buster tutto azione, combattimenti e esplosioni. Uwe Boll non è nuovo a questo genere di film: tutti ricorderanno il poco successo ottenuto da House of the Dead e Alone in the Dark diretti dal Nostro. Ma forse non tutti sanno che è lo stesso regista responsabile dei progetti di porting da pixel a pellicola dei seguenti titoli: BloodRayne, Dungeon Siege, Hunter: The Reckoning, Far Cry, Postal e molto probabilmente Fear Effect.
Paura.

Spero solo che qualcuno fermi quest'uomo prima che incominci a rovinare i classici per PC/Xbox/PSX; comunque se qualcuno è interessato qui puo' trovare il trailer di BloodRayne: the movie (interpretato dalla stessa bellissima Kristanna Loken); il film narra le vicende antecedenti al videogames.