Star Wars: The Old Republic - immagini e video sugli scontri PvP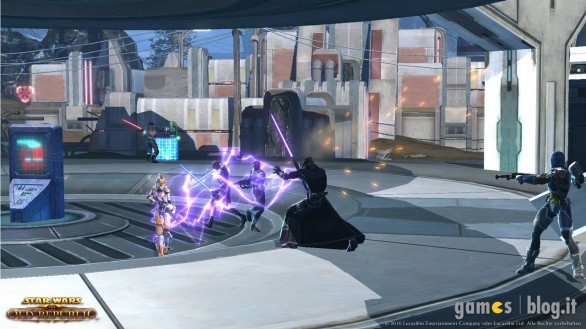 I ragazzi di LucasArts e di BioWare continuano ad aggiornare a ritmo continuo il sito ufficiale di Star Wars: The Old Republic e, dopo le recenti informazioni sulla classe "Imperial Agent", ci regalano una serie di immagini ed un filmato esplicativo sulla modalità PvP ("Player Vs. Player", i nostri maccheronici "uno contro uno" in Rete).
Dal punto di vista squisitamente narrativo, questo attesissimo gioco di ruolo online ci porterà a vivere le vicende galattiche accorse 3.500 anni prima della memorabile Battaglia di Yavin (ricordate la Morte Nera e Darth Fener?) e qualche secolo dopo le avventure del duplice capitolo videoludico di Knights of the Old Republic, coprendo così un periodo storico nella saga di George Lucas fino ad ora oscuro. E come se non bastasse questo importantissimo particolare, la leggendaria casa di sviluppo canadese cercherà di attrarre tutti gli amanti di Guerre Stellari con un impianto di gioco incredibilmente profondo e personalizzabile in ogni aspetto, dalla scelta della fazione (e quindi del tipo di eroe impersonabile) a quella dell'equipaggiamento e delle zone da esplorare.
Star Wars: The Old Republic sarà disponibile su PC per la primavera del 2011.
Star Wars: The Old Republic - galleria immagini