Yoshi's Island 3DS: immagini e video d'annuncio
Il paffuto dinosauro da compagnia di Super Mario si prepara a conquistare il 3DS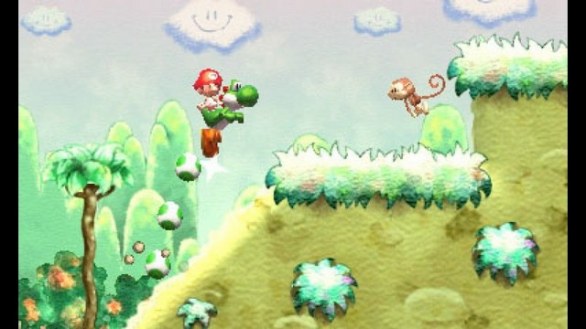 Durante l'ultimo Nintendo Direct realizzato dal colosso videoludico giapponese per illustrare i progetti che i boss della compagnia contano di pubblicare nei prossimi mesi per soddisfare le esigenze della loro sterminata platea di appassionati, il presidente Satoru Iwata ha annunciato lo sviluppo di Yoshi's Island 3DS.
A differenza del "rifacimento stereoscopico" di A Link to the Past svelato sempre in occasione del Direct, la nuova avventura del pacioccoso dinosauro da compagnia di Super Mario offrirà ambientazioni assolutamente inedite. Dal punto di vista squisitamente grafico e stilistico, il terzo capitolo maggiore della saga di Yoshi's Island sarà caratterizzato da livelli cartooneschi con un'accesa palette cromatica e da fondali disegnati a mano abbelliti da uno squisito effetto tilt-shift.
Per ciò che riguarda le dinamiche di gioco, invece, è lo stesso Iwata a spiegare come l'utente, nei panni del Baby Mario in sella al suo inseparabile Yoshi, grazie alle peculiarità della piattaforma su cui sarà chiamata a girare l'avventura potrà compiere evoluzioni mai viste in nessun'altra versione di questo platform a scorrimento: basta ammirare le immagini e le scene immortalate nel filmato odierno per scoprire delle nuove piroette e degli originali potenziamenti come, ad esempio, quello che ci permetterà di utilizzare un sistema di puntamento per il "lancio di precisione" di uova gigantesche raccolte colpendo una delle tante casse premio sparse tra un mondo di gioco e l'altro.
La data d'uscita di Yoshi's Island 3DS non è stata ancora annunciata, anche se con tutta probabilità dovrebbe cadere entro e non oltre la fine dell'anno, pressappoco lo stesso periodo di lancio del non meno interessante Yarn Yoshi in esclusiva su Wii U.