The Division: immagini, video e info dall'E3 2014
I ragazzi di Reflections, Massive e Red Storm confezionano un nuovo filmato di gioco di Tom Clancy's The Division per mostrarci i passi in avanti compiuti nello sviluppo di questo ambizioso titolo
Gli sviluppatori di Ubisoft Reflections, Massive e Red Storm hanno colto al volo l'occasione offertagli dalla recente conferenza E3 di Microsoft per aprire una nuova finestra sull'universo di The Division attraverso un'adrenalinica sessione di gioco all'ombra dei grattacieli di Manhattan semisepolti dalla neve.
La presenza degli autori del titolo sul palco dello show losangelino della casa di Redmond è giustificata dall'accordo di esclusiva temporanea che permetterà agli utenti di Xbox One di scaricare i contenuti aggiuntivi (che siano DLC o update gratuiti, ancora non ci è dato saperlo) con diverse settimane di anticipo rispetto ai loro "colleghi videogiocanti" su PC e PlayStation 4.
Tom Clancy's The Division - ecco le immagini tratte dal gameplay trailer della conferenza E3 di Microsoft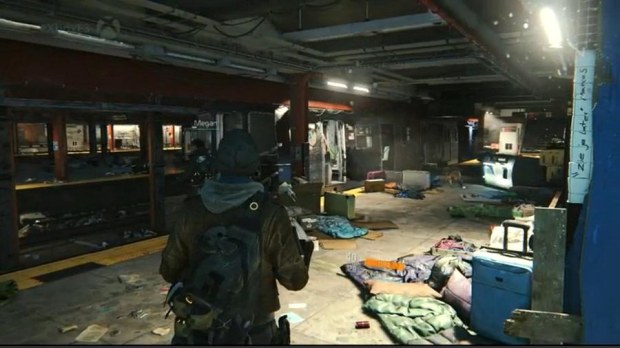 The Division: Ubisoft conferma lo slittamento al 2015
Nei diversi spezzoni inediti di gameplay di The Division osservabili nel video in apertura d'articolo, la natura esclusivamente next-gen di questo engine trova testimonianza nello straordinario livello di dettaglio raggiunto dagli artisti e dai designer delle sussidiarie di Ubi per dare forma alle animazioni dei soldati a schermo, ai fotorealistici effetti particellari legati alle fonti d'illuminazione dinamica e ai singoli elementi architettonici che andranno a comporre i palazzi e l'arredo urbano della New York post-apocalittica in cui saremo immersi nelle sfide online di questo capolavoro annunciato.
Il lancio di Tom Clancy's The Division è previsto per il prossimo anno su PC, PlayStation 4 e Xbox One.
The Division: lo sparatutto online di Ubisoft in nuove immagini di gioco
Non dimenticate di scaricare la Blogo App, per essere sempre aggiornati sui nostri contenuti. E' disponibile su App Store e su Google Play ed è gratuita.