Battleborn: immagini, video d'annuncio e prime info sul prossimo MOBA di 2K Games e Gearbox Software
La casa di sviluppo che ha dato i natali alla serie di Borderlands si cimenta con uno sparatutto multiplayer per PC e console current-gen
Dopo CD Projekt (The Witcher: Battle Arena), Crytek (Hunt: Horrors of the Gilded Age), Bethesda (Battlecry) e i nuovi studios indipendenti di Cliff Bleszinski (Blue Streak), adesso anche 2K Games decide di tuffarsi nel sempre più pescoso oceano dei MOBA annunciando Battleborn, un ambizioso sparatutto multiplayer "in arena" per PC e console current-gen.
Ad occuparsi di questo progetto saranno i ragazzi di Gearbox Software, gli autori dell'ormai storica serie di Borderlands dalla quale affermano, per bocca dello stesso presidente e amministratore delegato Randy Pitchford, di aver tratto ispirazione per dare forma alle dinamiche di gameplay, al comparto artistico e alla dimensione di gioco di questa nuova proprietà intellettuale.
Battleborn: ecco la cover ufficiale e le prime immagini del nuovo sparatutto multiplayer di Gearbox Software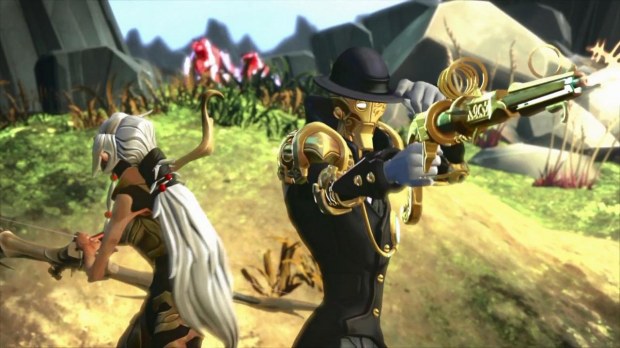 Stando infatti alle parole pronunciate per l'occasione da zio Randy, molti degli aspetti principali dell'esperienza di gioco complessiva di Borderlands verranno ripresi e riadattati in un contesto dominato non più dalla ricerca spasmodica delle armi e degli elementi di equipaggiamento, ma dalla scoperta delle ambientazioni e della "vera essenza" dell'eroe impersonabile.
La commercializzazione di Battleborn è prevista in maniera estremamente aleatoria per il prossimo anno fiscale, ovverosia nel periodo compreso tra l'inizio di aprile del 2015 e la fine di marzo del 2016. Il titolo, come specificato nel trailer d'annuncio confezionato per l'occasione dal team di Pitchford, vedrà la luce su PC, PlayStation 4 e Xbox One.
LEGGI - Randy Pitchford: "Perchè nessuno ci ha ancora copiato Borderlands?"
Non dimenticate di scaricare la Blogo App, per essere sempre aggiornati sui nostri contenuti. E' disponibile su App Store e su Google Play ed è gratuita.
GUARDA - Borderlands: The Pre-Sequel – i consigli di Jack il Bello in un nuovo video di gioco