Call of Duty: Advanced Warfare - immagini e video sulla storia - svelate le edizioni da collezione
La campagna principale e i bonus presenti nelle edizioni da collezione dell'atteso sparatutto di Sledgehammer in una serie di immagini e di scene di gioco esplicative
I ragazzi di Sledgehammer Games contribuiscono a rendere ancora più calda la già afosa estate degli appassionati di sparatutto confezionando delle immagini e delle scene di gioco di Call of Duty: Advanced Warfare che contribuiscono a fare luce sugli aspetti del titolo relativi alla storia delle missioni singleplayer, agli elementi di equipaggiamento sci-fi di cui potremo servirci nel corso dell'avventura e ai bonus previsti per chi non riuscirà a resistere al fascino delle edizioni da collezione.
Il filmato confezionato dagli sviluppatori californiani fotografa gli eventi che andranno a tratteggiare l'esperienza narrativa della campagna principale di Advanced Warfare e che porteranno le nazioni più industrializzate a rivolgersi alla compagnia militare Atlas e al loro presidente (l'uomo senza scrupoli interpretato nel gioco da Kevin Spacey) per difendere i loro confini a seguito di un attacco terroristico su scala globale.
Guarda le ultime immagini di Call of Duty: Advanced Warfare dedicate alla storia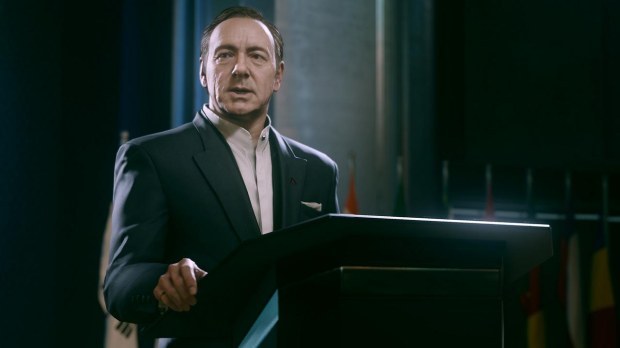 Leggi anche - Call of Duty: Advanced Warfare - "gli esoscheletri rivoluzioneranno il multiplayer", assicurano gli sviluppatori
Per quanto concerne le edizioni da collezione, l'offerta di Activision sarà suddivisa in tre cofanetti speciali: la Digital Pro Edition, la Atlas Limited Edition e la Atlas Pro Edition.
Ciascuna versione, ivi inclusa la Digital Pro, conterrà il Content Pack Atlas Digital comprensivo di due nuove armi (il fucile d'assalto Bal-27 AE e la pistola Atlas 45 AE), dell'esoscheletro Atlas, di caschi personalizzati per il multiplayer, di carte da gioco, di cinque bonus di rifornimento da utilizzare ingame e di un token per customizzare l'esoscheletro. Le edizioni Atlas Limited Edition e Atlas Pro saranno vendute in una speciale steelbook con la colonna sonora ufficiale ed il manuale Atlas: Advanced Soldier. Chi deciderà di optare per le edizioni Atlas Pro e Digital Pro potrà inoltre scaricare il Season Pass: ai DLC e ai contenuti specifici per ciascuna edizione da collezione s'aggiungeranno poi i bonus previsti per chi effettuerà il preordine del titolo.
A questo punto non ci rimane che lasciarvi in compagnia delle immagini odierne e delle scene immortalate nell'ultimo trailer di Call of Duty: Advanced Warfare dedicato alla campagna principale, non prima però di ricordarvi che l'atteso sparatutto di Activision arriverà il 4 novembre su PC, Xbox 360, PlayStation 3, Xbox One e PlayStation 4.
Approfondisci - Call of Duty: Advanced Warfare, nuovo dietro le quinte sulle animazioni e la direzione artistica