The Elder Scrolls V: Skyrim - due nuove immagini di gioco e un artwork inedito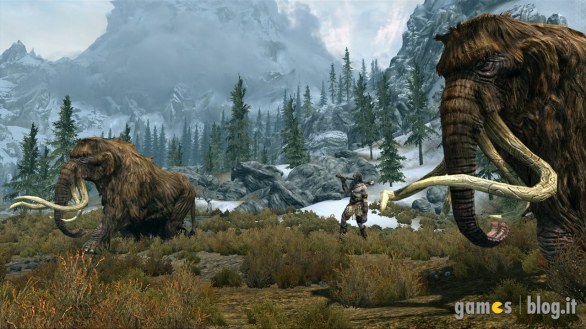 Due imponenti mammuth seguiti a vista da un gigante, un minaccioso guerriero all'interno di un salone con una tavola imbandita e Dovahkiin in posizione d'attacco all'ombra di un drago: con queste tre scene immortalate nelle immagini di gioco e nell'artwork di TES V che troverete nella galleria multimediale odierna, i ragazzi di Bethesda accompagnano dolcemente il tempo che ci separa dall'attesissima anteprima filmata di Skyrim che verrà mostrata questo lunedì nel corso della conferenza E3 di Microsoft.
Con tutta probabilità, all'evento parteciperà Todd Howard cimentandosi in una vera e propria sessione di gioco per illustrare il nuovo sistema di combattimento, i menù completamente ridisegnati (con interfaccia dinamica e mappa tridimensionale) e tutte le altre caratteristiche del titolo: dalle animazioni degli scontri corpo a corpo alla gestione dei dialoghi, dall'utilizzo concatenato delle magie ai Dragon Shouts, ci sarà di che divertirsi!
L'uscita di The Elder Scrolls V: Skyrim è prevista per l'11 novembre su PC, PlayStation 3 e Xbox 360.
The Elder Scrolls V: Skyrim - galleria immagini