God of War: Ascension - demo prevista a febbraio e presentazione della Collector's Edition americana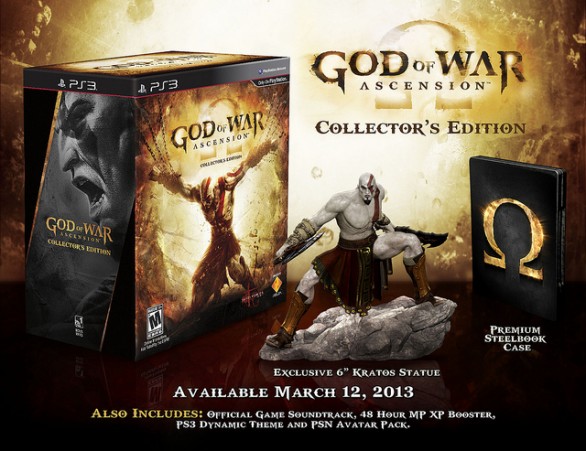 Oltre a fornire il nuovo trailer relativo alla modalità a singolo giocatore di God of War: Ascension, Sony ha annunciato attraverso il PlayStation Blog americano l'arrivo entro il prossimo mese della demo su PlayStation Store.
Dopo la disponibilità della beta multigiocatore e della demo esclusiva compresa all'interno del Blu Ray di Total Recall, la versione dimostrativa di God of War: Ascension inerente la campagna principale di gioco sarà finalmente disponibile per tutti gli utenti del PlayStation Network da questo febbraio.
Continua dopo la pausa.
L'annuncio della demo è stato accompagnato anche dalla presentazione della Collector's Edtion di God of War: Ascension per il mercato americano, già annunciata nelle settimane scorse per l'Europa. Come potete vedere dall'immagine in cima al post, la confezione conterrà l'action figure di Kratos da 6 pollici, una copertina esclusiva in metallo, un tema dinamico per PS3, la colonna sonora, delle immagini per gli avatar PSN e un boost per i punti della modalità multigiocatore della durata di 48 ore.
In attesa di maggiori informazioni, ricordiamo che God of War: Ascension sarà disponibile come esclusiva PS3 dal 13 marzo.