I giochi da giocare su PSP - parte seconda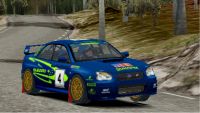 Continuiamo il nostro tour nell'offerta di giochi PSP, e subito segnaliamo il porting di Colin McRae Rally di cui sono già disponibili alcuni brevi video e i primi screenshot.
Coded Arms é un FPS Konami ambientato in una realtà virtuale, con un multiplayer fino a quattro giocatori e un generatore di mappe casuale, una cosa che non vedevo dai tempi di Diablo II. Bisognerà vedere il tutto come funzionerà, ma vista la scarsità di FPS PSP non credo ci saranno problemi per il titolo Konami.
Sempre Konami é Rengoku: The Tower of Purgatory, uscito in Giappone e atteso anche in versione occidentale. Sembra interessante, e ha uno stile decisamente diverso da quello che in genere arriva dal giappone. Lo strano protagonista può sostituire le armi che trova con parti del suo corpo, inclusa la testa. Assurdo, ricorda vagamente lo stile di un manga come Blame! (basta vedere l'artwork della copertina giapponese per rendersene conto).
Concludo con due giochi magari meno nelle mie corde, ma che qualcuno potrebbe trovare interessanti. Death jr. é stato il primo gioco PSP di cui abbia visto degli screenshot: sembra promettere un onesto platform 3d dal look abbastanza infantile.
Ape Academy é un puzzle game basato sui sottogiochi che mi verrebbe di paragonare a WarioWare, e che si segnala per una strana modalità a due da giocare sulla stessa console.